Now becoming something of an annual tradition, the iTunes festival is a series of 30 concerts at the famous Roundhouse venue in Camden – one every night for the whole of the month of September. The concerts themselves are actually free, but you can only get tickets by winning a draw which you enter online. There are a number of ways of doing this, including using the special iOS app, which also gives regular updates on news about the line up of different nights throughout the month, the iTunes Festival Facebook page, or their website. While this does make it quite difficult to plan going to the concerts, if you do manage to secure tickets you can see some of the world's biggest performers in a small and intimate venue doing unique sets designed specifically for the iTunes Festival, so it is a pretty incredible opportunity.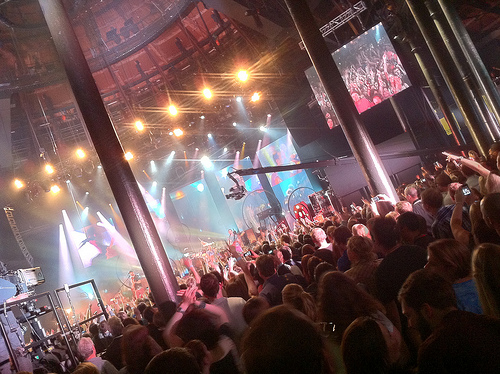 Which Acts Are Performing?
At this point in time, none of the acts performing at the iTunes Festival 2014 have been announced. You can expect, though, given past line ups, that some of the world's biggest pop and rock stars will be on the list. In recent years, lucky attendees have been able to see acts like Lady Gaga, Elton John, Foo Fighters, Adele, One Direction, Katy Perry, Oasis, Kings of Leon and Jessie J up close and personal at the iconic Roundhouse, and if anything, the events' significance in the annual music and music festival calendar is growing year on year, so things are only likely to be bigger and better this September! News as acts are announced will be communicated via the iTunes Festival's app, website and Facebook page as well as various other social media platforms. This is very much a concert series for the digital age, so keeping up to date and trying to win tickets via the web on your smartphone or computer seems only right!
The Camden Roundhouse
Camden has long been a major hub for the UK music scene, reaching its peak of popularity as a place for live music during the Britpop explosion of the 90's. The Roundhouse has just been refurbished and is now a truly stunning place to go and see a performance, though it has been an important and iconic London venue since it was transformed from its original role as a gin warehouse to a place for the performing arts in 1964. If you are lucky enough to attend one of the iTunes Festival concerts, you'll find that the surrounding area is full of great places to walk around and have a pre or post concert drink, including well known Camden pubs like the Dublin Castle. You can even make a day of it and explore Camden market before you go and see the gig.
If you aren't fortunate enough to be able to go to one of the 30 concerts in what promises to be the best iTunes Festival series yet, then the good news is that they will all be available to watch for free on your computer, phone or tablet via iTunes itself.