Kate Bush Live at Hammersmith Apollo
The news that legendary 70's and 80's singer songwriter Kate Bush would be performing live for the first time since 1979 was met with a huge amount of excitement – so much so that the full run of concerts, which start on August 26th, sold out within 15 minutes of first going on sale. This amounts to over 44,000 seats, which sounded pretty crazy at the time, though when you think about it, that is actually the average attendance at a Chelsea match at Stamford Bridge, so for a performer as enigmatic and iconic as Kate Bush, it shouldn't seem like to much of a surprise that this many people and more were clamouring to buy tickets. Whether you got lucky and managed to buy your tickets when they went on sale back in March or are hoping to get hold of some on the resale market, this series of concerts promises to be one of the biggest musical events of the year, and well worth attending if you can.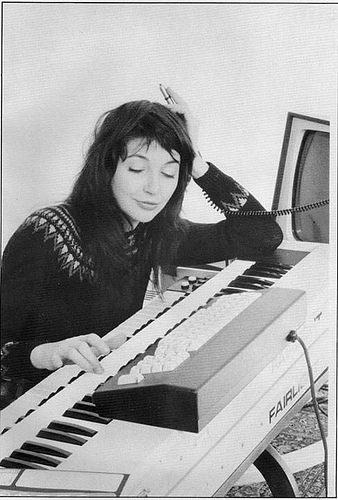 What Will Kate Bush's First Live Concerts in 35 Years be Like?
Kate Bush has actually only ever performed one tour, and that was her 'The Tour of Life' series in 1979. These concerts featured a lot of effects, dancing and interesting performance elements that were designed to complement her unique singing style and surreal songs. Not much has been revealed about what we can expect from this series of concerts, but given that she is not promoting a new album like some other older artists who come out of live performance retirement such as David Bowie, it can be safe to assume the material will be mostly if not entirely the songs her fans will know from her heyday. Given she is now 35 years older, it is unlikely we will be treated to the same level of incredibly gymnastic dance that used to go along with her performances, at least not by Kate herself (it is unknown if she will have dancers on stage with her), but it is probably safe to assume a spectacular visual show is being planned.
Are There Any Clues?
Some fans have tried to take clues as to what to expect from the concerts from promotional photos, for example, in one Kate is pictured wearing a nautical life jacket, which many have taken to mean she'll be singing some songs from the second half of her acclaimed 1985 album Hounds of Love, which was a concept song series about a woman who is drowning. More hints and clues may be revealed over the summer, but until the night of the first concert when attendees will undoubtedly be live blogging what they are seeing on Twitter, it is anybody's guess what the set list will be.
As the most talked about concert series of the year in London, both Kate Bush fans and the wider music community are definitely awaiting these performances with a huge amount of interest! On August 26th at the Hammersmith Apollo, all will finally be revealed.