Think of all of the wonderful cookery shows that you enjoy on the BBC and then pick them all up and place in the Olympia in the heart of Kensington, London and you have the BBC Good Food Show. All of your favourites will be there from Masterchef: the Professionals to the Great British Bake Off, with a good helping of Saturday Kitchen thrown in for good measure. For three days in November you will be able to experience the very best in food themed entertainment all under one roof.
Aside from all of your favourite shows you will also find a vast producers village in which you will find the very best in locally produced seasonal produce. The restaurant experience offers you a taste of the very best and most highly regarded eateries in the city, plus you will also be able to brush up on your own Masterchef skills as demonstrated by this year's finalists. Connoisseurs will enjoy the Drink Tasking Theatre and the Fine Wine Experience; there really is something for everyone at this incredible event.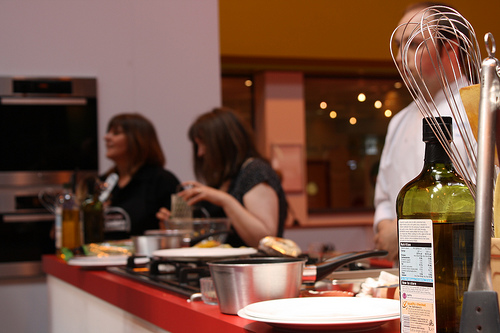 Top Visitor Tips
Bear in mind that this is an extensive event which is going to be attended by thousands of people over the course of the weekend. To make sure you enjoy your day at The BBC Good Food Show make sure you follow these simple tips:
Be Prepared! You are going to be leaving with more than you came with so bring a big bag or two. Souvenir show bags will be available to buy when you arrive if you do forget to bring your own. Don't forget your camera either, especially if you want to take snaps of your favourite television chefs.
Have Your Cash Ready! There will be a number of cash machines located around Olympia but they can get very busy and you will be charged for any withdrawal you make from them. Be prepared and get your cash ready before you arrive.
Wear Comfortable Shoes! You are going to be on your feet a lot, and will be doing a lot of walking so forget the stilettos and opt for some comfortable walking shoes instead.
About the Event
The BBC Good Food Show takes place in London's Olympia from the 15th to the 17th of November 2013. Those with advance tickets as well as general admission tickets will be guaranteed a seat in the event's super theatre to watch celebrity chefs such as Michel Roux Jnr, Paul Hollywood, Mary Berry, James Martin, Greg Wallace and John Torode all show off their culinary skills. The doors will be open from 9am each morning, with the wine cellar opening its doors at 11am.
Olympia has always been home to the biggest and most extravagant of events ever since it first opened its doors to the public in 1886. Though it is no longer home to the Hippodrome Circus it is the home of every major trade and public show that comes to the city, and offers state of the art facilities to exhibitors and attendees alike.