Ring In the Chinese New Year in London
While the Western New Year may have already passed us by, that doesn't mean that you have to go another year without enjoying similar festivities! The Chinese New Year is quickly approaching, and there may be no better place in the world to celebrate the upcoming milestone than in London's Chinatown district.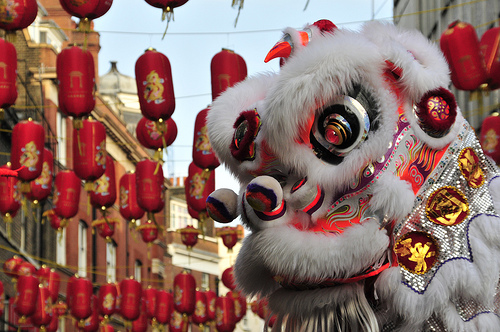 Basic Info
Between February 21-22, Chinatown in London will come to life as countless people prepare to ring in the Chinese New Year in audacious style. On Saturday February 21, there will be a few minor celebrations and events going on in the area, but the real festivities will kick off on Sunday, February 22. You'll be witness to a variety of New Year themed decorations, special food menus at all of the area's Chinese restaurants and bars, and a smorgasbord of entertainment and unique shopping experiences at craft stalls set-up throughout Chinatown. These celebrations – designed to mark the incoming Year of the Sheep – will be unlike any traditional New Year experience you have ever enjoyed.
The Year of the Sheep
Chinese New Year is unique in that their calendar revolves around twelve unique years, each of which features a special avatar of sorts with respect to the mood and nature of the coming twelve months. This year, it will be the Sheep, which represents politeness, clever behaviour, kind-hearted emotion and wise insight. Sheep are also known for their tendency to be confused or indecisive, so don't let that particular element be a barometer for your own behaviour in the coming year! The last year to be consider the Year of the Sheep was 2003; the next instance will be 2027.
The Grand Nature of the Event
People come from all over Europe and the Western Hemisphere to partake in Chinese New Year celebrations in London. Why is that? Outside of the major Chinese cities, London has the largest Chinese New Year celebrations in the world! As such, these won't be just any Chinese New Year celebrations; they are the Chinese New Year celebrations as far as most are concerned. You can expect to see tens of thousands of people packed into Chinatown's streets, bars, restaurants and stores throughout this weekend with the intent of ringing in the New Year in grand style. From a wide variety of decorations that will be present on every corner to the huge parade that will make its way through the streets, you can certainly have a good time all throughout Saturday and Sunday.
Accommodations
You may want to stay in the heart of Chinatown for this weekend celebration, but you better book soon! A few of the hotels we recommend include:
Premier Inn London Leicester Square Hotel, which is a three-star hotel located just a couple of blocks from the Queen's Theatre. You'll be able to reserve a room starting at just £100 per night.
Park Plaza Riverbank London, which is positioned just across the Thames and features beautiful views of the river and of Chinatown. A bit pricier, at around £115 per night.
W London Leicester Square, which is for those who'd prefer a bit more luxury on this festive weekend. With its own restaurants and bars, luxurious amenities and gorgeous views, expect to spend anywhere from £200 to £250 per night for a suite in this well-reviewed hotel.