National Hospitality Houses – London 2012 – Non-European Countries
Venues all over the city have been given over to the countries competing at this year's Olympics, with more parties, celebrations and incredible international food and drink on offer that you can possibly get though across the duration of the games. On Tuesday we talked about the Hospitality Houses being operated by European Nations so today here are the details of the Hospitality Houses being operated by the Non European Nations.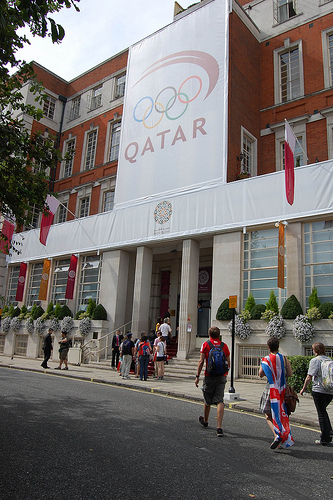 Africa House – Kensington Gardens
Rather than being the home of just one country, Africa House is an amalgam of all of the competing African countries, fifty three of them to be exact. Here you will be able to discover all that is good about African culture. Africa House is free to visit and open to the public, which means that you can sample African cuisine, traditional dance and may even get to meet some of the African athletes that are competing at the games.
Brazil – Somerset House, Covent Garden
Casa Brasil has turned Somerset House into a self contained carnival. They are offering a free public exhibition of Brazilian art, contemporary design and fashion in the Embankment Gardens for all to enjoy. Casa Brazil will also be showcasing Brazilian talent in the run up to them hosting the 2016 games.
Canada – Canada House, Trafalgar Square
Canada House has long been promoting everything that is great about Canadian Culture, and now it has become a home away from home for the Canadian athletes – all three hundred of them, and their families. It is here that any medal ceremonies will be celebrated.
Jamaica – The O2
This summer sees the O2 dancing to a reggae beat as the Jamaicans take up residence for the duration of the games. There are plenty of entertainments on offer to keep visitors of the nation more than entertained. Their hopes are lying with Usain Bolt and Yohan Blake and celebration parties in respect of any medal placements should be a lot of fun.
Korea – Royal Thames Yacht Club, Hyde Park
Korea House is offering a unique glimpse of Korean life and culture with displays and exhibitions throughout the duration of the games. Though many of the other activities carried out here will remain closed to the public.
New Zealand – Central Saint Martin's, Kings Cross
Kiwi House is set to be just as people are imagining with plenty of barbecues and outdoor entertaining including live entertainment and some incredible food, including some of their very own Moa beer.
Nigeria – Theatre Royal Stratford East, Gerry Raffles Square
Outside of the specially created Africa House, Nigeria are offering the public the chance to learn about Nigerian culture and life, Nigerian arts including music, dance and poetry as well as theatre and film are all being championed here.
Trinidad & Tobago – Tricycle Theatre, 269 Kilburn High Road
All aspects of the theatres operation have been handed over to the Trinidad & Tobago delegation for the five weeks that they are in residence. In place of the usual offerings visitors will discover traditional and contemporary exhibits and interactive displays highlighting the culture of the islands, culminating in a special performance of Mass Carib, a highly praised and acclaimed play.