Meet Your Ancestors at the Natural History Museum
Possessing a certain amount of curiosity about our ancestors is understandable. In fact you may wonder how on earth you can be related to your irritating relatives every time there is a family get-together. Well if you sit there thinking that perhaps Uncle Bob must have descended from a different branch of the human family tree, here is your chance to find out.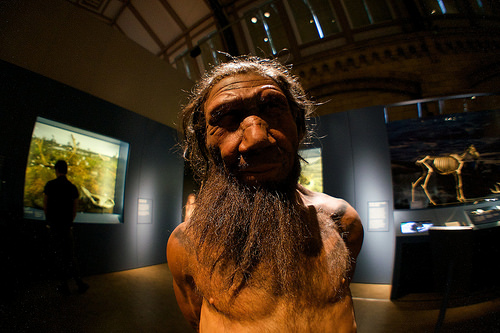 A major new exhibition at the Natural History Museum – Britain: One Million Years of the Human Story began on February 13 and will continue until 29 September. It's a fascinating tale of how our earliest ancestors survived on our relatively small island, dealing with natural disasters, ice ages and cannibalistic neighbours. And if you prefer to see rather than read all about it, there are plenty of interesting artefacts on show to flesh out the dry facts.
The Time Team
The team behind the exhibition have been working since 2001 to try and find out more about human activity during the Pleistocene period. When they first began, it was believed that the first humans did not arrive in Britain until 500,000 years ago. Now, however, there is evidence that humans occupied our green and pleasant lands more than 900,000 years ago and that the climate around that time was a lot better than it is now.
What makes this exhibition so interesting is that it is the first time such a large collection of Stone Age human remains and artefacts have been exhibited together. Indeed, it is the first time that many of the pieces have been shown to the public.
Exhibition Highlights to Look Out For
Human remains showing evidence of cannibalistic behaviour are bound to be some of the highlights for the kids. Skeletal remains dating back 14,700 years were uncovered in Somerset. The skulls show signs of being used as drinking vessels, which is pretty gruesome. Other interesting highlights include the 'Red Lady of Paviland', an ochre-stained skeleton found in Wales, which dates back 40,000 years; the Clacton Spear (oldest wooden spear ever found anywhere in the world); the Swanscombe skull; flint tools crafted in Norfolk around 850,000 years ago (believed to be the oldest flint tools in Europe); a woolly rhinoceros skull found in Peterborough; and a hippo tooth discovered in Trafalgar Square.
Life-Like Representations of Our Ancestors
One of the problems of going to an exhibition like this is that it is difficult to imagine what our ancestors looked like just from viewing a few bone fragments in a glass case. Well fear not because the exhibition curators have gone to a lot of trouble to bring our ancestors to life. Thanks to the wonders of modern technology, a series of life-sized models have been specially commissioned for the exhibition. The end result is incredibly accurate and if you look closely, you may be able to spot a few familiar family characteristics.
The Natural History Museum on Cromwell Road, London, is open between 10am and 4.45pm daily and tickets can be bought from the museum ticket office.