Justin Timberlake at the O2 in April
The boy can dance; the boy can sing. In fact Justin Timberlake has pretty much everything going on, which is why you would be mad to miss him at the O2 Arena this April.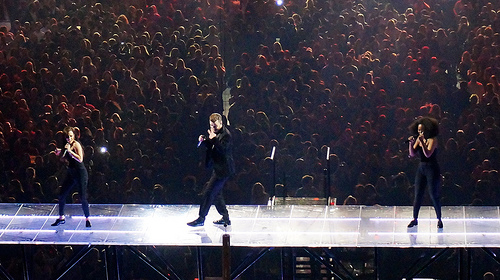 The legendary Mr. Trouser Snake himself is playing two nights at the O2. He will be there April 1-2 before heading to the SSE Hydro at Glasgow on April 4. He will also be back for one night only on June 10. The concert starts at 6:30pm. Tickets are in short supply, but you should still be able to pick up a couple from the usual outlets, and if that doesn't work, try looking online. It is always possible to find concert tickets on eBay or Gumtree. However, do make sure they are the genuine articles before you buy or you could end up listening to JT from the street outside the venue.
The 20/20 Experience
JT's current tour is to promote his latest critically acclaimed album of the same name. The 20/20 Experience has already sold well over 3 million copies worldwide, which makes it the biggest selling album of 2014. In fact in the first seven days of its release, all ten tracks from the album featured in the digital songs chart. This makes the 20/20 Experience album the most successful digital debut of an American male recording artist of all time. Pretty impressive JT!
Who is Justin Timberlake Anyway?
There can't be many people who have not heard of Justin Timberlake. With his distinctive voice and sexy dance moves, Mr. Justin Timberlake is an American recording artist who began his showbiz career on the Disney Channel, working alongside his former girlfriend and co-star, Britney Spears. But although he got himself noticed, it wasn't until he became a member of the immensely popular boy band of the day, NSYNC, that Justin really hit the big time. NSYNC didn't last, but Justin's career went from strength to strength on the back of such hits as Cry Me A River and Rock Your Body.
And just to add the icing on the cake, JT can even act! Justin has had roles in such notable movies as The Social Network and Friends with Benefits, so it is highly likely that in time he will devote more time to acting (although hopefully not at the expense of his music career).
Is Justin Timberlake Good Live?
So now we have whetted your appetite, you are probably wondering whether Mr Sexy Back himself is hot stuff live. Well you will be pleased to know that JT knows how to put on a great show for his fans. The man is a born performer and he can keep an audience entranced from start to finish. Justin has an amazing voice and although he usually sings his own tracks, he has been known to do a few cover songs as an extra special treat. He has a knack for making each member of the audience feel as if they are enjoying a private show. Imagine: Justin Timberlake singing to you and you alone…
So if you missed JT performing at the Brit Awards, make sure you don't miss him performing at the O2 in April or June!