London's Unique and Quirky Stores
As you wander around the city you will be awed by the flagship department stores that call London their home, their vast window displays promising all kinds of luxurious treasures. But there is more to shopping in the city than the glitz and the glamour afforded by the big name stores. London is also famous for the number of independent, original and occasionally quirky stores that can be found here. No matter what you are looking for there will be a store here that can fill your order and leaving you wanting items that you never knew you needed.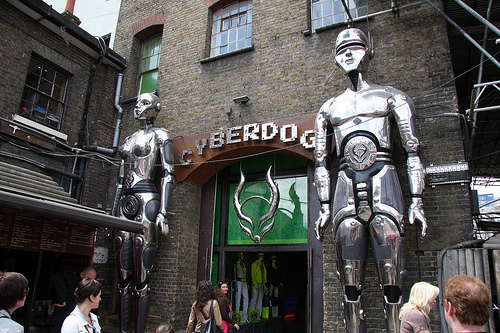 The Beatles Store
The London Beatles Store is located on Baker Street, home of the fictional consulting detective Sherlock Holmes. Within its walls you will find all things Beatles from original items of memorabilia including original vinyl records from the 1960's to recently produced T-shirts and mugs, everything for the diehard Beatles fan.
Cyberdog
Always wanted to know where to get the latest clubbing gear? Then you should head to Cyberdog in the heart of the Camden Stables Market. The clothing is futuristic, fluorescent and complete with flashing LED's. If you fail to spot the shop, which you will only do if you walk around with your eyes closed as there are two enormous futuristic robots flanking the doors, you will be able to follow the sound of the music being pumped out into the market place.
Hoxton Street Monster Supplies
Just as the name would suggest the store does in fact sell supplies for monsters. The store is located in Shoreditch and has been providing all of London's monster population, and in fact the rest of the world, with everything they could possibly need from neck bolts and bolt tighteners to replacement claws. The shop has been plying its trade since 1818 and is also willing to accept the odd human customer or two.
London Lomograph Gallery
Leave the world of the digital camera behind and immerse yourself in the world of analogue photography. The London Lomography Gallery Store is located in trendy Carnaby Street and has everything that the enthusiastic analogue photographer could desire from Lomo cameras to films and assorted accessories. Customers also have the option of having their films developed in store. The gallery store also offers a number of different photography courses.
Persepolis
Persepolis is a unique delicatessen with a distinctive Persian cuisine, which is located in Peckham. Inside you will not only find a wide range of authentic Persian food you will also find traditional handcrafted items and home wares. Whether you are looking for an authentic sweet treat or a colourful decorative item for your home, you will find it here.
Tatty Devine
Located on Brick Lane, Tatty Devine was one of the original boutiques to make the street their home. Since 2001 they have been making and selling unique and original jewellery items including moustache themed neckwear, animal brooches and name necklaces. If you are looking for some highly original and totally unique items with which to adorn yourself, this should be your first port of call.