London is famous for a lot of things, its history and associated tourist attractions, the diverse areas of the city where you can buy just about anything you need no matter how obscure or bizarre, and of course the fabulous bars and restaurants where you can enjoy numerous kinds of cuisine. It may not be a city that you would readily associate with street food, however pay a visit to any of the fabulous food markets held in the city each week and you will discover a whole new world of London street food.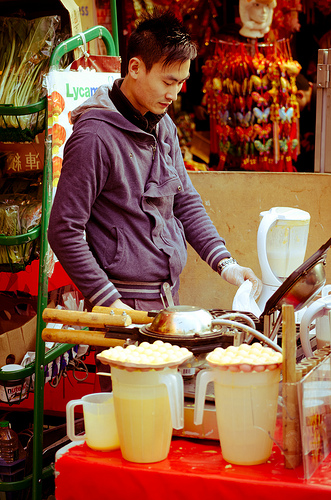 Keeping it Local
Had to Spitalfield's Market and you will find that the majority of traders are selling goods that have all been sourced from in and around the London area. Among the delicacies on offer you will find locally produced honey from city dwelling bees and the very best cheese produced using milk only from the Home Counties. You will discover that all of the vegetables have been grown locally and finished goods such as cakes and confectionary all made with locally sourced ingredients.
A Taste of the Orient
Oriental street food is incredibly popular in London with diners munching on 'Gua Bao' from Taiwan, which are meat filled steamed milk buns, and 'Jiao Zi' which are a type of Chinese dumpling. Brixton Village Market is the place to go for Beijing street food, served up by Mama Lan. Or you could try the Dumpling Van which is found within Partridge's Food Market.
The Street Gourmet
You may not associate street food with gourmet fayre but there are people out there that want honest food, food that has not been processed, mass produced and looks fantastic. They find it in the form of incredible gourmet hot dogs and even scallops which have been harvested by hand. The Borough Market is the place to go to feed the gourmet in you.
Introducing the Biskie
If you have never heard of a Biskie before, you have really been missing out. It is something of a cake and confectionary hybrid which is a mix of biscuit, cookie and cake. But the resulting morsel is fabulously soft and chewy and wonderfully crisp. Flavours range from the traditional such as Bakewell Tart to exotic and tangy green tea. The only places that you can buy them are at the Saturday Food Market which takes place at One New Change and at Partridge's Market.
Snacks to Die For
Frozen yoghurt, homemade marshmallows, handmade popcorn and freshly made popcorn are deliciously decadent and can be found and just about every food market that takes place in the city. The best marshmallows are found at the Portabello Road Market and come in a myriad of flavours including London Gin, champagne and blueberry. Sweet treats like chocolate and churros are also found at Portabello and are also available at the Real Food Market. With the number of delicious and tempting options available your sweet tooth need never go without again, best to put the diet on hold though.