London is the most diverse city in Europe and with over 300 languages spoken in the city, you are sure to experience something new when you visit the city.  The best places to really see the ethnic diversity in London is in one of the many outdoor markets.  There are over 350 markets in London and many are located in immigrant areas.  They literally sell anything you can think of from clothes to food to bric-a-brac.  Below are some of the most renowned outdoor markets that are definitely worth a visit on your next trip to London.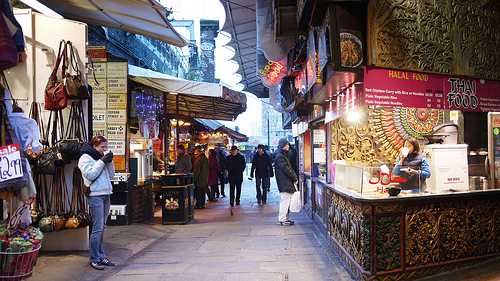 Brixton Market
Brixton is the most ethnically diverse area of London and this is portrayed in the fabulous African-Caribbean market that is held on Monday to Saturday from 8am to 6pm.  Brixton Market has been held since the late 1800's and it is home to a fantastic array of culinary goods including some true exotic foods.  A number of African clothes shops can also be found in the area as can reggae music and Jamaican nail salons.  Inexpensive restaurants are also dotted around so stop and have a bite if you get peckish!
Camden Market
Camden Market began in 1974 and is now one of the most renowned markets in the London area!  It is the largest market in London and can see in excess of 150,000 visitors during the weekends.  Exotic trinkets, cheap clothes and ethnic food can all be found in Camden Market, as can some cheap pubs if you fancy a pint.  Camden Market is open every day from 10am until 6pm.
Portobello Road Market
The Portobello Road Market is held every Saturday from 6am to 4pm and is located in Notting Hill – one of London's trendiest districts!  Although it originally started as a fruit and veg market, it is now most renowned for its antiques.  Everything from antique saucers to record players can be found at Portobello Road and as you work your way through the stalls you will also find thousands of second hand books, clothes and records.  Inexpensive restaurants line the market, as do a number of pubs.
Spitalfields Market
Spitalfields Market has been running for almost 400 years.  Located in the East End of London it is a great place to go if you love all things art.  Hundreds of stalls selling homemade artefacts line the area and anything from homemade clothes to homemade candle stick holders can be found here.  There are also a number of stalls selling exotic food and buskers fill the air with music.  Spitalfields is open from 10am-4pm on Monday – Friday and 9am-3pm on Sunday.
Brick Lane Market
Brick Lane has been the home to immigrants for hundreds of years, and it is currently predominantly home to a large number of Bangladeshis.  This has led to some fantastic curry houses in the area and if you visit the Brick Lane market you should definitely aim to stop for a curry at some time during your visit.  The Brick Lane market is really disorganised and you can literally find a little bit of everything on its many stalls.  There are also some fantastic Bangladeshi items to be found including some beautiful jewellery and some fabulous clothes.  The Brick Lane market is open on Sundays from 9am to 3pm.
Whatever your interests are, make sure you visit one of London's outdoor markets on your next visit to the city.  There are so many to visit that you will definitely never get bored!