Nestled almost centrally between Nottingham, Lincoln, and Sheffield, Clumber Park is a picturesque National Trust parkland brimming with beautiful walks, a calming lake, and a Gothic chapel. There's no surprise that this stunning park is popular, with activities for children, bicycle hire, and much more.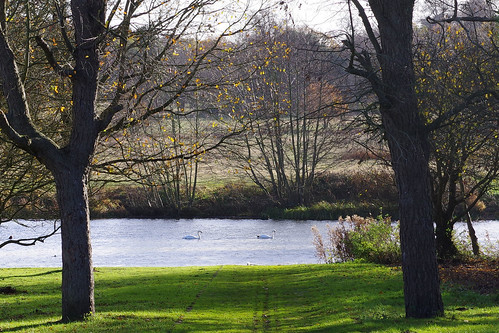 History Of Clumber Park
Clumber Park has a fantastic history and offers a peek into the past. For over three centuries, a grand house stood proudly on the estate and was home to the Dukes of Newcastle. In days gone by, you might have seen Robin Hood and his band of merry men traipsing through because the park used to be part of the notorious Sherwood Forest, until the Duke of Newcastle declared the estate as a hunting ground in 1707 for Queen Anne. Unfortunately, the house no longer stands, but you can still see remnants of the past as you walk around.
Commissioned by the 7th Duke of Newcastle, the Chapel was designed by G.F Bodley and is a picture of Gothic architecture. The Chapel began construction in 1886 and took three years to complete. Luckily, it still stands today, and you can book tours to see the magnificence for yourself.
Things to Do at Clumber Park
As well as merely absorbing the breath-taking scenery whilst walking around the lake and visiting the Chapel, there are plenty of things to do for everyone.
For sports enthusiasts, the park has hosted several 5km runs, including a traditional parkrun as well as a more adventurous nighttime run. Also, bicycles can be hired from the cycling hub for a small charge, allowing the whole family to get involved.
For families that seek the thrill of the hunt, you can take part in geocaching. Guided by GPS devices, you will be navigated to waypoints, and at each point, you will find a small waterproof box (cache). Clumber Park is home to over 90 caches, providing plenty of fresh air and exploration.
Visitor Information
Located in Worksop, Nottinghamshire, the park is accessible by road, train, bicycle, and even bus. The car park can get extremely busy, so it is best to book in advance to avoid disappointments. You will have to pay to enter, which includes parking, or be a National Trust member for free admission. There is a caravan site nearby for people wanting to explore the surrounding area.
The park is accessible to wheelchair users but there is no hire facility. There are approximately 13 miles of tarmac throughout the property and suitable paths throughout. Visit the information centre to find out information for the best accessible routes.
For the families out there, the site has baby changing facilities and there is a play park open daily. If you get hungry out there, there are numerous outlets to grab a bite to eat.
Clumber Park is a national beauty spot offering more than the average park. Don't miss out on a world of nature, history, and enjoyment the next time you have a spare day on your hands.