Camden Town, in North London, is a popular destination for Londoners and tourists alike, and is the main area in London for live music, particularly indie bands.  Camden is vibrant and bustling by day, with its famous market luring in shoppers.  This market is one of the best places to go for interesting, alternative or retro clothing, with many stalls offering one of a kind t-shirts, vintage jackets and coats and other cool accessories.  Unlike most of the other famous markets in London, Camden market is largely geared towards younger shoppers, and you will be guaranteed to be able to find things here you won't see anywhere else, and no trashy London memorabilia – Camden is all about looking cool.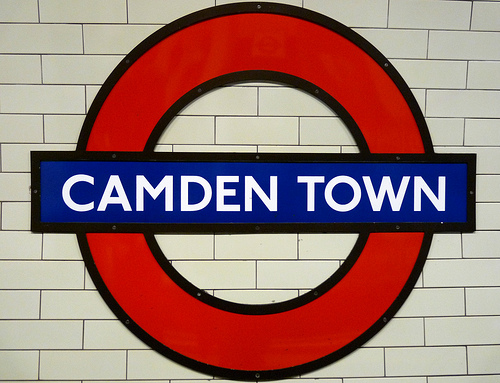 In the evening, the pubs of Camden are filled with people, and often the odd celebrity.  This is where a lot of bands and comedians hang out when they are in London, and is also home to many people involved in that sort of scene.  Amy Winehouse lived here before she died, as do many other well known singers, musicians and actors popular on the alternative comedy and indie music scene.  In the 1990's Camden was essentially the London home of the Britpop movement, with bands like Blur in almost permanent residence, and the tradition of being the top place for bands has remained.
Many of the pubs in Camden have live music every night, and often there is no charge to see the bands, of which on some nights, particularly at weekends there may be several.  Sometimes there will be a cover charge, but for unknown unsigned bands this is only ever a few pounds and is normally totally worth it for a full program of entertainment.  Like many London pubs, you will find an abundance of choice in Camden when it comes to drinks, especially in terms of real ale.
One very popular venue is the Dublin Castle, which has live music pretty much every evening in its back room and is otherwise a cool, regular English pub where you can have a drink, play pool or sit outside in the summer.  Many big UK bands started out playing here, and there is plenty of memorabilia on the walls to prove it.  The Dublin Castle is a lively and busy pub, even during the day, when you can also watch live sport on the TVs in there – they generally show all televised Premiership football as well as some other popular sporting events like ruby and cricket.  It is a really fun place for a drink after an afternoon of shopping at the market, a stop on your Camden pub crawl, or for an evening of live music in a true London style pub.
Camden Town is easily accessible via Camden Town tube station, and if you choose to stay out later than the tubes run it is well served by the night bus network, otherwise it is an easy place to find a black London taxi.  Alternatively, it has plenty of hotels, so you could make it the base for your stay.