If you are planning a holiday, you should consider Blackpool Pleasure Beach as your destination. Blackpool is located in the county of Lancashire, which is situated on the north west coast of England. It is comparable to Las Vegas in America, and is a top attraction for visitors in England.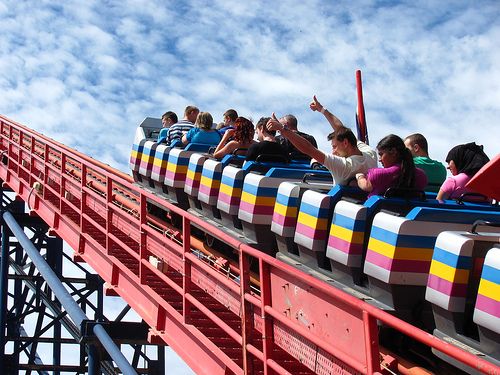 Blackpool Pleasure Beach is a well known amusement park, and averages 5 million visitors a year. It does not matter if you are interested in heart pounding rollercoaster rides, Nickelodeon Land or a day of family fun, everyone will find an activity they enjoy at the most popular amusement park in Britain.
Rides
This resort offers youth groups and families a variety of weekend packages. In fact, Blackpool Pleasure Beach promises visitors unlimited enjoyment and thrills. With over 120 rides, with many of them major rides, Blackpool Pleasure Beach is excitement personified.
The Infusion is a favourite ride among kids of all ages. The inverted roller coaster is completely suspended above water, and is the first roller coaster of its kind anywhere in the world. The roller coaster takes riders through five loops. The ride ends with an adrenaline pumping double line twist.
True to its name, Valhalla is an indoor ride that allows riders to ride through snow, ice, fire and wind. This is an experience that is more than simply riding through a few mundane twists.
Smaller rides are also available for younger children. Some of these rides have age bar restrictions in place to prevent the youngest of guests from accessing the more intricate rides.
Attractions and Entertainment
The rides are not the only things that Blackpool Pleasure Beach is known for. There are plenty of attractions and entertainment to enjoy off of the tracks as well. Hot Ice is a seasonal show that has been in operation since 1936. This seasonal show is performed at what was formerly known as the Ice Dome, now known as The Arena.
If you enjoy magic, look no further than the seasonal show Craig Christian Evolution of Magic. Craig Christian, along with Elizabeth, performs magic shows for park visitors between July and September at the Horseshoe Inn.
For visitors who are fans of Ripley's Believe It Or Not take a stroll down Ocean Boulevard and enjoy spending some time at the museum. If you are entering the museum as a first time visitor, you will discover an exciting new world.
South Shore
Visitors who are looking for a more quiet and serene location for their holiday may prefer to spend the majority of their time on the South Shore of Pleasure Beach. This is an ideal location for seniors and families with small children. It is also convenient to the central town so you can still access the more crowded areas of the beach with ease. A bus or tram will quickly land you right in the middle of the nightlife. Take part in the late nights and the pub atmosphere and then go back to your tranquil seaside destination.
Enjoy a day of sun and fun at one of the favourite theme parks in the UK. Blackpool Pleasure Beach offers thrilling rides, shows, discount rates and the ultimate family getaway.