In a group of hills located in Edinburgh, Scotland, sits Arthur's Seat. This is the main peak in the hills which make up Holyrood Park. Known for their natural beauty, these hills attract many tourists, located just outside of the city centre. The name for Arthur's seat is unknown although it is thought that it is named so after the famous King Arthur, a medieval king of Scottish folklore and legend.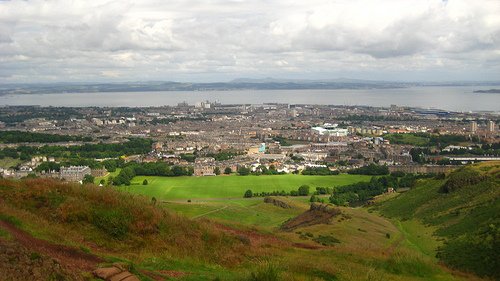 Holyrood Park
Holyrood Park is a city park which gives you the best of both worlds. Not only do you get stunning views of the hills and crags, but as the park is so close to the centre of Edinburgh, when you reach the top you get panoramic views of the city's skyline.
Arthur's Seat holds much history in Holyrood Park, being the remains of an old volcano and the home to which old flint and stool tools were found, proving human activity that dates back to as far as 5000 BC. There are many activities to be discovered in Holyrood Park including climbing Arthur's Seat and Iron Age forts.
Best Seat in The House
Climbing to Arthur's seat is a short walk, so even those who are not extremely active can get to the top. It can be strenuous, but you are welcome to stop at any point and take your time. The short hike is worth it though, as Arthur's Seat gives you 360-degree views of Edinburgh and some amazing photo opportunities.
Be sure to check the weather before climbing up to the top though; it can be windy up there and in summer you may want to take sun cream with you! You will pass walkers of all ages and the best thing about Arthur's Seat; it is totally free and only a short walk from the centre.
The City of Edinburgh
Whether you are already visiting this wonderful city, or you are coming to climb Arthur's Seat, spending some time in Edinburgh is a must. Just a walk through this town will fill you with awe, with medieval buildings incorporated with modern day city life.
Edinburgh is home to its very own castle, and with excellent views and history in every corner, this is a must see for all history fanatics. After a walk over Arthur's Seat you may want to relax in one of Edinburgh's many bars or restaurants. Royal Mile is an excellent place to visit to enjoy Scottish culture, full of quirky bars and shops.
There are many B & B's and hotels to stay in within the city or on the outskirts. With Arthur's Seat being so close to the city, there is no need to drive although there is a free car park if you wish to do so. Edinburgh is a very close-knit city and most places are relatively close to each other.
Edinburgh offers something for everyone. Arthur's Seat is a great day out that is not only free but gives you a taste of the natural wonders Scotland has to offer.