Armagh is a historic city, containing many fascinating sights and attractions, more than many other cities. It is also regarded as being the city of St Patrick, and the place where the last king of Ireland Brian Boru was born. Armagh also has a religious importance too as it is the ecclesiastical capital of Ireland. Whatever you expect from a city in Northern Ireland you will find it all here and more, from ancient historical sites to modern and contemporary bars and clubs. This is the region of Ireland that is widely regarded as being orchard country and it is not only the trees that blossom here, the city too blossoms with colour and activity throughout the year as it hosts many festivals and events that draw people into the city from far and wide.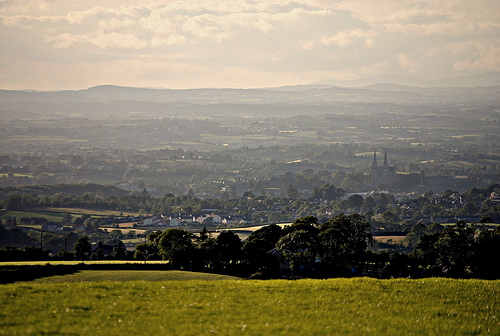 An Ancient City
Armagh is one of the oldest cities in Ireland and is filled with National Trust properties that are open to visitors. There are also a number of excellent museums that offer interesting and often interactive exhibitions and displays. As this is one of the oldest established cities in the country there are a number of excellent archaeological sites that offer a unique insight into what life was like in the region centuries ago. Between the different historic sites on offer here you will find that you have over six and a half thousand years of history to explore.
Places to Visit
The city is surrounded by apple orchards, and within the very heart of these is Ardress House, a beautiful seventeenth century farmhouse that saw remodelling in the Georgian era; visits here are recommended purely so you can experience the atmosphere that surrounds this beautiful house. The County Museum is something of a general museum that caters for all tastes, here you will find exhibits that date from the prehistoric period through to the modern day.  The museum itself is housed within a beautiful Georgian building that on its own would be worth visiting.
One place to go for a really good day out is Gosford Forest Park, here you will find not only the beautiful park set within the grounds of Gosford Castle itself but you will be sharing the parklands here with cattle and sheep that graze openly on the land.  You will also find that there is a wonderful deer park as well as some tranquil and beautiful walled gardens. If you are unsure about where to go or what to see first when you arrive in the city, you can always take advantage of one of the many different guided tours that are on offer around the city.
Activities and Entertainments
Armagh is popular with fishermen as there are some wonderful opportunities for angling around the city.  For course fishing there is the River Blackwater, perch can be found in Shaws Lake as well as brown and rainbow trout. Fly fishing is available on many of the local lakes, so for those who enjoy nothing more than sitting by the water's edge watching their line floats bob about on the water, you will be spoilt for choice when you come to Armagh.
During the week visitors are welcome at Armagh golf club so you could even get a round or two under your belt while you are here. Children of all ages will get a thrill from a visit to the Armagh Planetarium, there is something about space that grabs the imagination and lets it fly. For those with a love of Irish history a visit to the Nevan centre will tell you all you need to know about the archaeological evidence found at the site of Nevan Fort, the ancient, historical capital of the region and the seat of ancient royalty.
For a taste of Georgian history a trip to the Palace Stables heritage Centre is in order.  Here it is not only the stables that have been restored to their former glory but you can also visit a wonderful Georgian kitchen and there is also a walled kitchen garden which may well inspire you to create your own version when you get home… and once the kids have experienced life in the Victorian school room they may never complain about having to go to their own schools again.