If you're looking to catch a glimpse of the Queen of England, the best place is to do so is Windsor Castle, the Queen's Official Residence. If you're a history enthusiast and would like to step back in time and visit the world's oldest occupied castle, you can't miss this. Steeped in almost 1000 years of history, England's oldest castle covers an impressive 5 hectares of sprawling well-manicured gardens.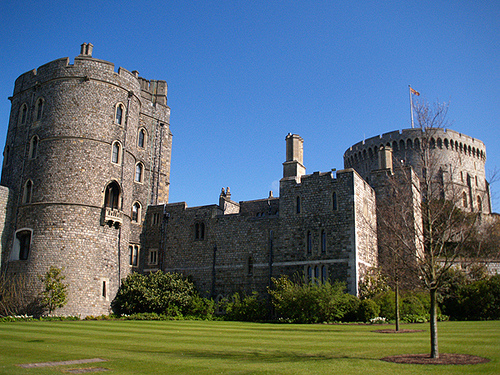 As you walk through the gates, you are greeted by the Queen's guards. Stepping inside, you can't help but imagine life as a royal during the Victoria era. This well-preserved castle is home to her majesty's exquisitely decorated state apartments where former and kings and queens played as children. You'll have the chance to wander around one of England's most striking ecclesiastical buildings and pay your respects to a number of late kings and queens when visiting St. George's chapel. Children and adults alike will be in awe of the extravagant playrooms of former kings and queens including Queen Mary's Doll House.
State Apartments
Amazingly, Windsor Castle has had 39 monarchs reside behind her grand walls. Take a walk through the long halls and visit the various State Apartments that mirror the contrasting tastes of its occupants.
If you don't have time to visit every apartment, one that shouldn't be missed is Charles II. An attention seeker and a man of great extravagance, he didn't want to be outdone by his famous French royal cousin, Louis XIV who resided in the ostentatious Palace of Versailles in France. Competitive Charles modernised the interiors and as a result of his extravagance he created the most ornate and impressive State Apartments in the whole of England.
If you're a lover of art, you'll surely appreciate the fine art collection housed in the State Apartments. With an impressive collection of privately commissioned paintings by Rubens, Rembrandt and Canaletto, you'll be able to get a first hand look at the history of the royal family through art.
Today, Windsor Castle's State Apartments are still used by the Queen and her family for special events and charity functions.
Queen Mary's Doll House
Imagine a doll's house fit for the Queen and you'll still not be able to envision the grandiose dolls' house designed and constructed for the young Queen Mary by Sir Edwin Lutyens in 1921. Nothing has gone amiss and every fine detail has been thought of from gold chandeliers, to porcelain toilets, from life under the stairs in the servants' living quarters to the library that's bursting with original literary works from some of the world's greatest authors in history. They thought of everything – even the antique wine cellar is fully stocked with miniature bottles of real vintage wine.
St. George's Chapel
The official place of worship that still houses religious ceremonies today is a Gothic masterpiece. Edward IV was the mastermind behind its construction and he commissioned it to be built in 1475, however, it wasn't completed until 50 years later.
St. George's Chapel is the final resting place for ten of England's monarchs including Henry VIII's supposed favourite wife, Jane Seymour. Others include Charles I, Queen Mary and George V, Queen Elizabeth and George and George VI. Take a short stroll across the court and visit Albert Memorial Chapel which Queen Victoria commissioned and dedicated in the memory of her beloved husband, Prince Albert.
Family Fun Day
If you're at a loss as to what to do on a Saturday with your family, visit Windsor Castle. Saturdays are family fun days where children can enjoy a variety of fun events, activities, re-enactments and storytelling.
Changing of the Guards
If you didn't make it to Buckingham Palace to see the famous changing of the guards, never fear you can still have the opportunity when visiting Windsor Castle. Check out the Royal Collection official website to find out any additional information and schedules.
And finally, don't forget to see if the castle's flag is flying at full mast – if yes, it means that the Queen is at home – who knows perhaps you'll be one of the lucky few to have afternoon tea with her Royal Highness herself.