If you're interested in the history of London then the Museum of London is the place to visit. The museum displays some of its amazing wealth of material in their collections in its seven permanent galleries.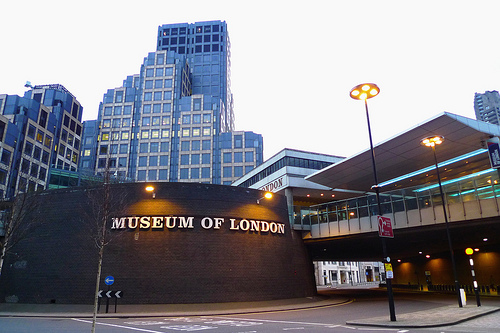 The history of London from the prehistoric to the present day is documented in the Museum of London. The museum is near the Barbican Center and is part of the Barbican building complex. It is within a few minutes' walk of St. Paul's Cathedral and overlooks the Roman city wall remains. It is near the oldest part of London, which is now the financial district.
The social history of London and its inhabitants are its primary concern. As part of the Barbican Estate the museum was opened in 1976, using collections which were previously held by the Corporation at the Guildhall bur also includes items from other collections, including the London Museum. Architects Hidalgo Moya and Philip Powell adopted a radical new museum design approach. The galleries were positioned such that there was the only way through the museum which was from the prehistoric period to the modern ages.
The museum contains a series of chronological galleries containing diagrams, pictures, models, and original artifacts. There are also interactive activities and displays for all ages. Fragments of the Roman London Wall are just outside the museum. The prehistoric galleries have already been updated, and in 2007 a new exhibition on the Great Fire of London opened.
The museum is currently engaged in a £20million redevelopment which is due to be completed in May 2010. It is the largest investment since it opened in 1976. The redesign, by London architects Wilkinson Eyre, will relate the story of London and Londoners from the Great Fire of 1666 to the present day. The redesign consists of four new galleries. The new City Gallery features large street level windows along the London Wall.
The Galleries of Modern London enable the display of some 7,000 objects by increasing the museum's exhibition space by 25%. The exhibits include the puppet stars of the BBC's children's TV Ben, Bill and Andy Panda, and the interior of the Wellclose debtor's prison.
The name of the new gallery is World City and recounts London's story from the early 1950s to the current day. Fashion is everywhere, from the starchy and stiff suits of the 1950s, through to the dress of the swinging 1960s, to the hippy days in the 1970s and the baggy trousers of the current punk era. And the fashion is right up to date with the 2008 collection of Alexander McQueen.