The Best Shopping Locations in London
London is famous for its shopping, and has something for everybody.  Whether you want top end designer luxury, cool alternative styles you won't find anywhere else, or trendy high street chic then London has plenty to offer.  Here we take a look at some of the best places to shop in London.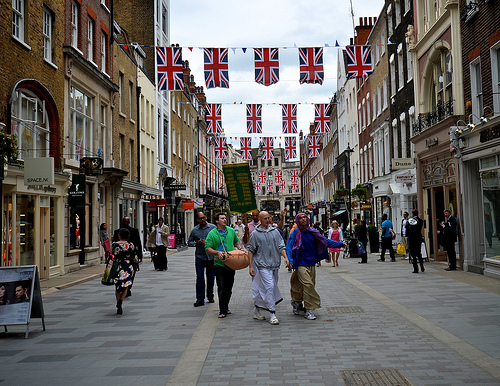 Knightsbridge
Knightsbridge is world famous for being home to one of the best known department stores in the world – Harrods.  Harrods sells everything, and is a tourist attraction in itself, particularly at Christmas when it is beautifully decorated each year.  Harrods is a luxury, high end store where you will see not only the very best in exclusive designer fashion, but also amazing food, wine, home furnishings and much, much more.
For some people, Harrods can feel a little too touristy, so if you want the opulence and the same designer glamour without quite so many people outside taking photos, head across the street to Harvey Nichols.  Both stores also have great bars and restaurants within them, as well as beauty salons and more, so you can really make a whole day of shopping there.  Knightsbridge also has plenty of other top end shops, from boutiques through to flagship shops from many well known luxury brands.
Oxford Street
Another world famous shopping destination, Oxford Street is where you should go if you want a whole lot of choice but aren't looking to spend thousands.  All the favourite British chain stores like Topshop have their flagship stores here, and you can find some really cool stuff at high street prices.  Oxford Street is also home to Selfridges, another of London's iconic department stores.  As with Harrods, Oxford Street's Christmas lights are something special, and are switched on each year by a major celebrity.  If you are doing your Christmas shopping in London this year, taking in the lights is a must.
Carnaby Street
Conveniently just off Oxford Street, is Carnaby Street.  This was regarded as the home of "Swinging London" in the 60's, and is still a top destination for trendy, alternative and retro clothes.  You will find some big brands here, but mostly Carnaby Street is the place to go for cooler, more interesting pieces with a retro flavour.  It also has some great little pubs and restaurants if you feel like a break from shopping.
Westfield
Situated in Shepherd's Bush, near to Notting Hill and Kensington, is London's newest major shopping destination, and was launched in winter 2008.  The Westfield London shopping centre is home to hundreds of big name shops, mostly focussing on top end names like Prada, Gucci and Chanel.  In fact, just about every designer label you can think of is here, in this beautiful purpose built mall.  Westfield also has a really nice champagne bar at the centre, which is a great place to hang out and compare purchases with your friends.
These are just a few of the best places to go on a shopping trip to London, but if you are looking to visit the city for your Christmas shopping this year, or just to buy yourself some treats, then you are sure to find that London is one of the greatest shopping cities in the world.