Sci-Fi London Costume Parade – 28th April 2013
It's time for the Sci-fi festival that everyone has been waiting for which is kicking off with a one of a kind Sci-fi costume parade on the 28th April 2013. The parade begins in the convention's home of Stratford and if you turn up to take part you should find that there are people in costumes that cross the decades, from the early days of sci-fi through to the modern day special effects spectaculars. Following the party there is an amazing after parade party planned filled with music, plenty of games and a plethora of special guests dropping by to say hello. It looks set to be a fun filled afternoon that attendees will remember for a very long time.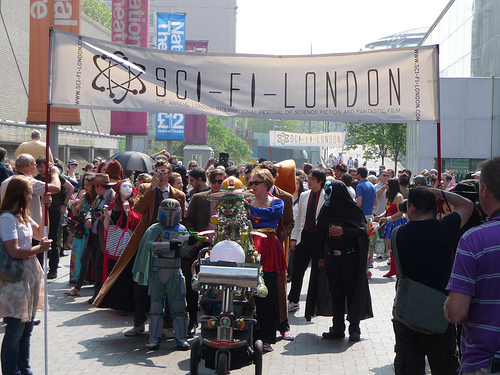 The parade is scheduled to set off at 14.30 on Sunday afternoon, so everyone that is taking part needs to be there for 13.30 to ensure that everybody can make the most of the photo opportunities and then be in place for the start of the parade. Attendees should gather in Theatre Square in the Stratford area of London, outside the Picture House Cinema, home of the festival for this year.
What Kind of Costume?
There are no strict rules regarding the kind of costume to wear, providing it's sci-fi, it's all good. The whole ethos is about the fun of dressing up and pretending to be someone else for a while. However this year's festival just happens to coincide with the 50th anniversary of the cult sci-fi phenomenon of Dr Who, so expect there to be more than one doctor in the house, as well as plenty of long scarves, jelly babies, bowties and the occasional fez, not to mention a Dalek or three. Alongside the Dr Who fans there are expected to be storm troopers, zombies, vampires (day walkers of course) and zombies as well as superheroes and super villains. It makes no difference whether your chosen character is taken straight from the big screen of from literature, it's all about the fun!
People attending the costume parade should bear in mind that there are certain rules and regulations regarding weapons as costume accessories. The people attending the parade and the party and entertainment that follows need to remain within the bounds of the law at all times.
Registration
It is totally free to take part in the costume parade but you MUST be in costume.  It is also free to come and watch this colourful spectacle, as it sets off and makes its way through the area. Registration is in order that the organisers have a clear idea about the numbers that are attending, plus it is only the registered guests that will gain entry to the after parade party, which although is billed as a private event will also be free. Light refreshments will be on offer as well as a licensed bar.  If you are not registered you will miss out, and it will be something you regret until the next parade comes around.