Notting Hill Carnival 2014
If you are looking for something really fun to do over the August Bank Holiday weekend in the capital, then the biggest and most exciting option has to be visiting Notting Hill Carnival. It is at this time every year that fashionable Notting Hill transforms into the most colourful and vibrant place on Earth, with the biggest street carnival in Europe. The idea of Notting Hill carnival is to celebrate London's multicultural dynamic and its links to communities all over the world, particularly the Caribbean. It is a popular thing to attend for both Londoners and visitors to the city, as it offers an amazing atmosphere, a huge amount of entertainment, and lots to see and do.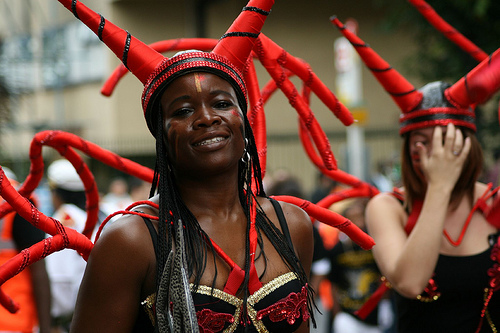 Carnival Basics
Notting Hill Carnival is a two day event held on the Sunday and Monday of the bank holiday weekend. On the Sunday it is 'children's day', which means the parade itself and the general environment is geared towards being safe, comfortable and fun for families with kids. This means there are generally smaller crowds, and a lot more child oriented attractions. On Monday, the event goes into full party mode, and things can get pretty hectic. The idea is to have a great time and the majority of people who go there do, but it is important to stay safe by keeping an eye on personal belongings, and to keep yourself comfortable in the crowds by bringing lots of water to drink (remember, this is the hottest time of the year so even in London it can get to scorching temperatures) and wearing comfortable shoes. Avoid wearing anything where your toes can easily be trodden on like flip flops. While there will probably be a lot of things you want to take pictures of, be careful with your phone or digital camera, because unfortunately, like any other place where crowds gather in London, there is a bit of a risk of theft if you flash around valuable items.
Getting to the Notting Hill Carnival 2014
One thing you definitely want to avoid is attempting to drive to the carnival – public transport or walking really are the only ways to get there without a huge amount of hassle. Tubes will get extremely congested, and the closest tube station, Notting Hill Gate, is exit only for most of the day on the Sunday and Monday of the carnival. It is generally best to arrive early if you want to see the start of the parade at 9am each day, or to turn up a bit later for a less congested journey. Because the tube station at Notting Hill Gate can be extremely crowded, some people choose the slightly more relaxing option of walking to Notting Hill from other close by tubes like Holland Park, Kensington High Street, Queen's Park, Kensington Olympia, or Ladbroke Grove.
The Notting Hill Carnival is one of the most fun events on the annual London calendar, with great food, great music, impressive carnival floats and dancers, and a wonderful atmosphere. Whether you go to the carnival every year or 2014 will be your first opportunity to experience this fun and cultural event, it is well worth making the trip and checking it out.