Miley Cyrus 'Bangerz Tour' hits O2 London in May 2014
Most people have heard of Miley Cyrus. This is the lady who put 'twerking' on the map thanks to an infamous performance at the 2013 VMA Awards. In fact she's well known for pushing the boundaries, as recent reviews of the opening shows on her current Bangerz Tour are anything to go by. So if you love Miley Cyrus, you will be delighted to know she is appearing at the O2 in London on May 6th.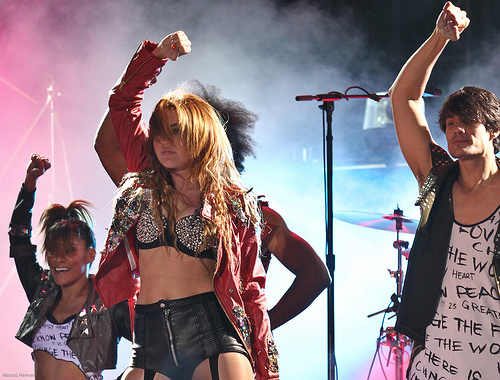 Tickets for the show have already sold out from the usual outlets, but don't be too despondent because it is always possible to pick up genuine tickets from online auction websites such as eBay. Just be careful when buying tickets from non-official outlets, as there are a lot of unscrupulous vendors out there who are more than happy to rip off fans.
What to Expect from a Miley Cyrus Show
When it comes to Miley Cyrus, it is usually better to expect the unexpected. Ms. Cyrus is known for her raunchy performances, but even she managed to push the envelope in her opening show in Canada. The show kicked off with Miley sliding down a giant tongue-shaped pink slide, which as fans will know is a reference to her frequent tongue wagging hi-jinks.
Raunchy Dance Moves
Miley is not the shy and retiring type so raunchy dance moves are all part and parcel of her performance. She is fond of the 'less is more' approach to costume design and most of her outfits leave little to the imagination. One particular bodysuit was covered in a marijuana leaf design, which is probably a not-so-subtle nod to Miley's liberal attitude towards cannabis. This was teamed with a pair of cowboy boots. Her backing dancers wore all kinds of weird and wonderful outfits. Some were dressed in furry animal suits whereas others wore red chequered rodeo costumes.
X-Rated Performance
In one memorable performance, whilst singing her 'Party in the USA' track, Miley and one of her dancers simulated an X-rated moment between Monica Lewinsky and Bill Clinton. Indeed, throughout the entire show Miley made a point of cavorting shamelessly—simulations of masturbation were fairly frequent and she wasn't shy about spreading her legs at frequent intervals. Tasteless? Probably, but since when has Miley ever worried about such issues?
Is the Show Suitable for Kids?
Miley's performance comes with a Parental Advisory Explicit Content warning. Or in other words, her show really isn't suitable for younger kids. Older teenagers will be fine, but when you have oral sex simulations on stage, it is safe to say that your younger children are best left at home.
Miley Cyrus seems pretty determined to kill off her previous image as a Disney Princess once and for all. Many kids will still remember her from the long-running Hannah Montana series, but those wholesome days are now long gone and the Miley Cyrus of twerking fame is very much an x-rated artist. However, Miley Cyrus can never be described as 'boring', so if you want a fun night out, go along to one of her shows—you won't be disappointed!