London's Top Student Clubs
Students are widely considered to be party going people; people who sleep late, club all night and somehow still manage to make it to their lectures. There doesn't need to be an excuse for a party either, so where can you take your party when it's too much for the halls of residence? Many of London's clubs have 'Student Nights' with reduced prices, all that is needed is a valid student ID and your cab fare home.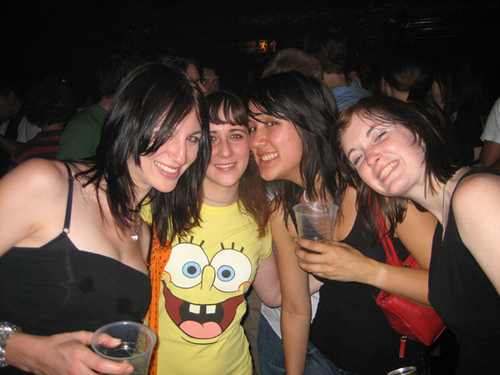 The Club de Fromage
Cheesy by name and cheesy by nature. With a valid NUS card entry is reduced to £6 every Saturday. The club is located at the O2 Academy, Islington and boasts plenty of cheesy tunes, lots of fancy dress and themed nights. Those who turn up in fancy dress are ushered to the front of the queue too.
KOKO; Club NME
Touted as being one of the best nights in the city, KOKO was at one time a theatre and then a cinema and is now home to Club NME. It is billed as one of the best Indie nights in the city and something of a Mecca for students. The evening is a mix of live music and DJ sets and will keep you dancing until 4am.
Los Locos
Los Locos can be found in Covent Garden. There are numerous offers on the drinks and the entry is reduced. The main night for the students is Wednesday and referred to as the 'Sin Bin', drinks prices are severely reduced (£1 shots), and the dance floor is generally filled until 3am.
Leicester Square; Metra Bar & Club
Here Monday nights are Student nights and the music is hip hop, house and R&B. Take a chance on your before midnight entry price by rolling a dice as you get to the door. There are drinks offers available all night to students.
Popcorn at Heaven
Monday night is the mixed/gay no attitude night, and those sporting a valid NUS card are granted free entry. With five different party rooms, seven bars and three different dance floors there is room for everyone.
The Roxy
The Roxy is very much student oriented. Wednesday is the main student night but anyone with a valid NUS card can take advantage of discounted entry the rest of the week.
The Social
Hidden behind Oxford Street, the Social is the place for a more relaxed night on the town. There is live music on offer every night and all of the drinks are priced so that there may still be a little of that student budget left at the end of the night.
Haymarket; Tiger Tiger
Student night here is Monday night and the club charges just £5 entry. This is a very popular place and queues to get in should be expected. The music is varied and there are three bars in this expansive club.
Zoo Bar
Student nights are Tuesdays, Wednesdays and Thursdays. This bar is located in Leicester Square. To make your money stretch just that little bit further they also offer regular happy hours and a number of different drinks offers.