London's Top Garden Attractions
Despite London being one of the biggest and busiest cities in the world, there are plenty of open spaces and formal gardens for you to enjoy from large attraction packed royal gardens to small and intimate havens of tranquillity, all you need to know is where to look. Whether you plan to spend an entire day surrounded by nature, or just want somewhere you can go to hear yourself think London has what you need.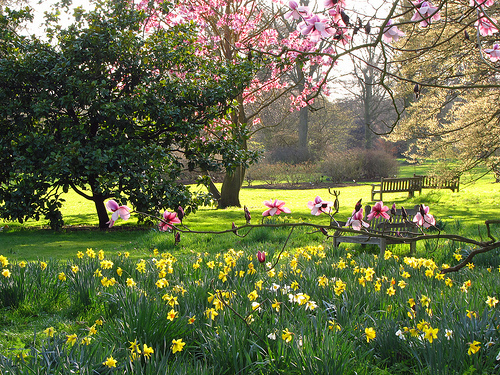 The Large Gardens
The larger gardens and open spaces are big enough for you to go and have a day out there. These are the grand gardens generally designed specifically for a large estate, aimed at pleasing both the eye and the senses.
Kew Gardens: The gardens are spread over 300 acres of land and contain in excess of 30,000 different plants and trees. Kew Gardens has been established for more than two centuries and is classed as a World Heritage Site. These gardens have something for everyone from prehistoric plants through to tropical wonders.
The Kensington Palace Gardens: Visit the stunning nineteenth century Italian style gardens, and enjoy the varied array of landscapes and designs that are on show.
Hampton Court: These incredible gardens were devised by no other than Henry VIII and show plenty of opulence and flair, there are over 24 acres to explore and of course the maze to enjoy.
Eltham Palace Gardens: These have just under twenty acres of authentic medieval gardens to explore and some wonderful Art Deco inclusions to discover.
Syon House & Gardens: Designed by the famous Capability Brown there are forty acres to explore, and of course the incredible 'Great Observatory' to check out.
The Smaller Gardens
The smaller gardens are large enough to take you away from the stresses and strains of daily life and let you get your breath back amongst tranquil surroundings.
Chelsea Physic Gardens: Designed for the cultivation of a variety of medical plants and herbs the gardens here have been in existence since 1673; there is a wealth of information to discover here.
The Kyoto Japanese Garden: Situated in Holland Park the garden was designed specifically for those looking to enjoy a stroll amid spectacular surroundings.
The Charlton House Peace Garden: Only opened to the public in 2006 it is one of the estates original walled gardens. Dedicated as a Peace Garden in support of the campaign against domestic violence and violence against women promoted by Amnesty International.
Fulham Palace Gardens: With a perfectly preserved eighteenth century walled garden and a number of rare and unusual shrubs this is a wonderful place to escape for an hour or two. The gardens are home to a wonderful cedar wood sculpture entitled 'The Bishop's Tree'.
The Garden Museum: Devoted to the history and development of the British Garden a visit here is a must for any green fingered enthusiast. Not only a museum it also boasts its own garden, which is an authentic reproduction of a knot garden dating from the seventeenth century, filled with historically accurate plants and decorations.