Enjoy Your Stag Weekend in London
In recent years the stag party has been taken to a whole new level, with the celebrations (or commiserations on the impending marriage) lasting for an entire weekend. But why go to the expense of heading abroad for your weekend when the attractions of London are a home grown party opportunity right on your doorstep? Here are a few suggestions of how to make your stag weekend a celebration to remember.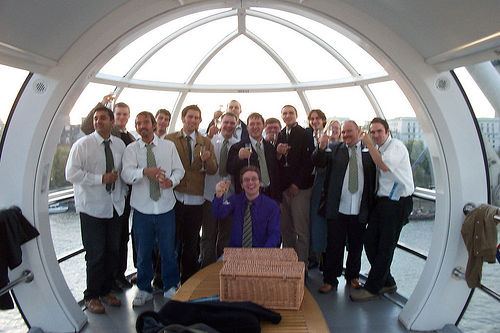 Need for Speed
Blow away those pre wedding nerves on an exhilarating speedboat trip on the Thames. Forget the sedate and hum drum river cruisers and climb on board a rigid inflatable boat (RIB) and skim across the surface of the water on a river/city tour with a difference. If you are looking for an adrenalin rush to get your weekend started this will certainly do the trick.
Play a Round
That is a 'round' in golfing terms, not have a final fling before the big day! Urban Golf means that you can enjoy a game of golf on a world famous course without having to lose line of sight with the bar. Even better, there is no dress code, no strict rules and you can play as good or as bad as you wish without having to worry about wrecking the green, or indeed, ever getting thirsty. Using the simulator you are free to play on any course anywhere in the world without having to wear stupid clothes.
Lady Luck
Try your luck in one of the city's casinos, with a bit of luck you can win enough to pay for the extravagant wedding that has been planned around you. Go for the glamour of the casino located within the Empire in iconic Leicester Square, here you can try your luck twenty four hours a day and take a break on the funky illuminated dance floor. If you are looking for a little more choice when it comes to gaming, head for the Hippodrome Casino, where you have a full three floors of gaming opportunities, a choice of five bars to keep you supplied with drinks and a special area designated for poker playing.
White Water Thrills
The Lea Valley White Water Centre attracted a lot of attention during the London 2012 Olympics and now you can put the facilities here to the test yourself as you and your party push yourselves to the limit and have a great time in the process. It's the perfect way to have fun and set yourself up for a night on the town in any of the incredible bars and clubs that the city has to offer.
Karting and Paintballing
Go out and get playing with some big boys toys and head to London Docklands where you can take advantage of the Raceway to fulfil your need for speed or make your way to the London Paintball Centre which is close by and start taking pot shots at each other, settling old rivalries and levelling the score with paintball guns, you could even combine both activities into one adrenalin fuelled, action packed day.