Edward Scissorhands – Brought to the Stage
If you are a fan of the classic Tim Burton movie Edward Scissorhands, which starred Johnny Depp and Winona Ryder, you will not want to miss this creative contemporary dance adaptation of the film brought to the stage. Running at Sadler's Wells on Rosebery Avenue from December 2nd 2014 to January 11th 2015, this is an updated version of choreographer Matthew Bourne's original adaptation of Edward Scissorhands, which was critically acclaimed in 2005.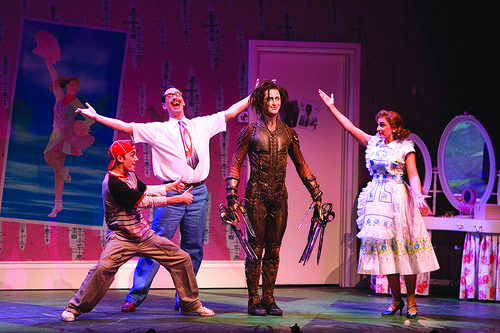 What is the Show About?
If you are not familiar with the movie, it is the story of a strange yet innocent character with scissors for hands, who tries to gain acceptance in a small American town. It has become an iconic movie for those who grew up in the 80's, and has the gothic edge to it you would expect from Tim Burton. It was one of the first movies where Johnny Depp showed the versatility he is now so often lauded for.
While a dance version of a cult movie may seem like an odd prospect, Edward Scissorhands is a strange yet charming story that actually seems to suit the medium very well. Critics praised the 2005 version of the show for its accessible, easy to watch choreography, which makes it an enjoyable show for those who don't generally watch contemporary dance. While the 2014 updated version has not been reviewed as yet, it is expected that Matthew Bourne's choreography style will make this a modernised, yet equally accessible and entertaining show.
As with the 2005 version, the show features music by well known film composer Danny Elfman (who is known for writing the theme tune to The Simpsons, among many other things), which has been designed to really capture the feel of the well loved movie. The original stage performance was also praised for its enchanting lighting and sets, and it is anticipated that we will see more of the same with this year's reimagining.
Going to See Edward Scissorhands
Edward Scissorhands is a show that is generally suitable for young people as well as adults, and as a dance performance it may be something younger kids would enjoy even if they are not familiar with the story. There are matinees on Saturday and Sunday afternoons throughout the show's run if you would like to take your family to an afternoon performance.
Ticket prices for both the 2pm matinees and the standard evening shows, which begin at 7.30pm, range in price from £12 to £55 depending on where you want to sit, and can be bought from the Sadlers Wells box office.
Getting to the Theatre
Sadler's Wells is a well known theatre on Rosebery Avenue, which isn't hard to spot. There are a few tube stations within an easy walk, however the closest is Angel.
If you want dinner as well as seeing the show, look out for restaurants nearby that can take an order before your performance and have it ready right after, or who offer pre-theatre menus.