Do Something Different in London This Christmas
If you are getting a little tired of going through the same routine every Christmas, of eating and drinking yourself into a stupor or watching the same old reruns on TV, try something a little different this year, and take part in some of the more unusual events that are taking place in the city this festive season. There are some highly publicised events which take place every year, such as the Serpentine Swim. But there are a number of events which never really get the attention that they deserve, nor do they fit into any easily identifiable category. So make a break from the traditional this year and have yourself a quirky little Christmas.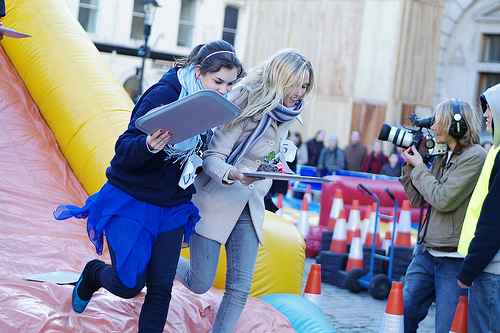 Run Santa Run!
Run, jog, walk or skip your way around London to raise money for charity, the only condition attached is that you do it dressed like Santa. It really is something to see as a tidal wave of red and white sweeps through the city streets. The best part is that you don't even have to provide your own suit, so don't worry if you don't have one lurking in the back of your wardrobe!
Switching on the Christmas Lights
Since 1947 London has received a tree from Norway, and not just any tree. Standing somewhere between fifty and sixty feet tall this 'Queen of the Forest' is the biggest tree you will find in the city over the festive season. The tradition of the sending of the tree is done as a symbol of gratitude for the way that the Queen and her country supported Norway throughout World War II. The ceremony of lighting the tree is a wonderful event to see.
The Great Christmas Pudding Race
Didn't think Christmas puddings could run? Head to Covent Garden on December 1st and you will find a variety of people in fancy dress taking part in an event which has been a London tradition for the past thirty years. Not only it is a race, it is also an obstacle course and each team has to balance a traditional Christmas pudding, which of course is round in shape, on a tray as they navigate the course. It is great fun to watch and even more fun to be a part of!
Dip Your Toe in the Serpentine
Well more that your toe is required in the Christmas morning dip in Hyde Park. Join hundreds of plucky swimmers in the chilly waters of the Serpentine if you are brave enough, or wrap up warm and go and watch the insanity that is the Christmas Day Dip.
Support Crisis This Christmas
Around seven thousand volunteers are required over the Christmas period to help in Crisis centres across the city, to offer help and support to the vulnerable and the homeless that call the streets of London their home. Every year more than 2,000 people are supported during the festive season. Christmas is traditionally a time of loving and giving, so give a little of your time to show some love to someone in need this Christmas.