Cardigan is located in west Wales. It lies on the River Teifi, just on the border of Ceredigion and Pembrokeshire. Cardigan is a traditional market town with an interesting historic past. You can explore its narrow streets and traditional inns, enjoy the slow pace of local life, and learn more about the ship-building industry that was a major part of the town's economy in the 17th century. Cardigan was also the town where many families started their journey to a new life in North America, including the ancestors of world-famous architect, Frank Lloyd Wright.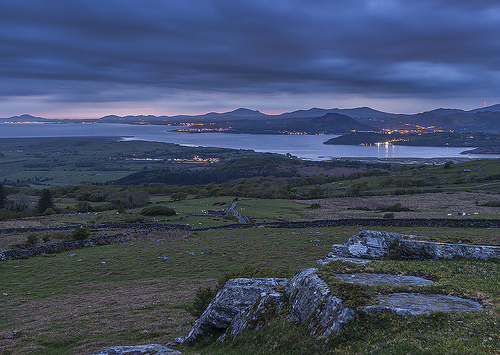 Take a Self-guided Tour of Cardigan
A good place to start if you want to explore Cardigan on foot is the tourist information centre, which can be found at the entrance of the Mwldan Theatre. From there you can pick up a copy of the Cardigan Town Trail, which is a self-guided tour. It will show you where all the main historical places are, plus other key sights.
Cardigan Castle is one of the top attractions for visitors. It has been closed for 16 years, but is now open to visitors and if you want to learn more about the town's historical past, come and explore this important defensive stronghold and then enjoy a drink in the café situated next to the castle walls.
Shopping in Cardigan
If shopping is your passion, you will enjoy the 150 year old Cardigan Guildhall Market with its quaint shops, art galleries and café. Elsewhere in the town there are craft shops and a good range of popular high-street stores.
Cardigan Bay is famous for its dolphins. A pod of dolphins live out in the bay and a popular attraction for visitors to the town. You can learn more about these amazingly intelligent creatures by visiting the Cardigan Bay Marine Wildlife Centre, but for a quick sighting, stand by the harbour wall and if you want a closer look, take a boat trip out into the bay.
Top Places to Visit in the Cardigan Area
The local area around Cardigan has lots to offer, including rugged landscapes, beautiful sandy beaches, and plenty of culture, so this pretty little town is a fine place to stay if you want to explore the local area. Cardigan is a short bus journey from the start of the All Wales Coast Path at Poppit Sands, so put on your walking boots on and explore the stunning coastline on foot.
The Welsh Wildlife Centre is located on the Teifi Marshes at Cilgerran, close to Cardigan. The reserve and visitor centre is open all year, so come along and learn more about the seven different habitats as you wander along self-guided nature trails. This one is perfect for kids.
Llanerchaeron is a fascinating 18th century estate near Aberaeron, which is a short drive from Cardigan. The estate was built in 1796 by John Nash. Today it is owned by the National Trust and is virtually the same as it was 300 years ago. There are regular guided tours and seasonal events. You can also buy locally grown produce in the farm shop.