Originally called Whitechapel Road, Brick Lane is located in London's East End and is home to a large Bangladeshi community.  In recent years the area has been called Banglatown although the area was originally home to large Jewish and Irish communities who immigrated to the area during the 1600s.  There are still a few reminders of the Jewish settlement in the area with a few bagel delis and the odd synagogue in the back streets.  Nowadays however, Mosques have taken the place of the larger synagogues and the area is instead known for its curry houses.  Brick Lane is one of my favourite areas in London and is a great place to spend a day away from the usual tourist places.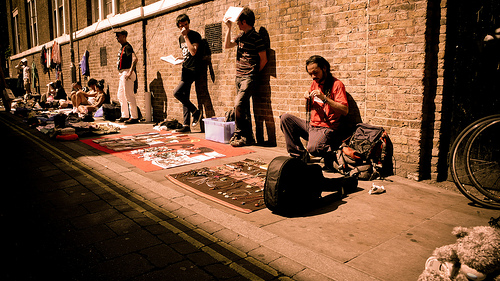 Brick Lane Market
Whenever visiting London, you should definitely try and check out at least one of the markets in the city and Brick Lane Market is no exception.  If you decide to visit Brick Lane I highly recommend visiting on a Sunday when the market is at its fullest and most chaotic.  A highly unique experience, Brick Lane Market is full of people trying to sell second hand furniture, bric-a-brac and clothes and there are some fantastic bargains to be had if you look close enough.
The market is also a hub for students and young artists who all visit on a Sunday.  Street performers and live artists can also be found and are sure to make this an experience that you will never forget.
The Brick Lane Gallery
Another must see place on Brick Lane is the Brick Lane Gallery.  Open daily from 1-6pm it hosts an eclectic variety of street and contemporary art by both British and International artists.  The gallery hosts a variety of different exhibitions throughout the year and has worked with a number of renowned artists including notable graffiti artist Banksy.  When you leave the gallery make sure to check out the awesome street art that can be found actually on Brick Lane – much of it has been the backdrop for many music videos.
The Brick Lane Festival
The Brick Lane Festival is held every September to celebrate the multicultural society living in the area.  It has been held since 1996 and is widely recognised as the alternative carnival to Notting Hill.  Most years a number of popular music acts will play and it is also a chance for some of the up and coming designers to show their wares.  With a day long party feel to it, it should come as no surprise that around 60,000 people attend the festival each year.
Eating Out
Whilst visiting Brick Lane, it would be a sin to not visit one of the Bangladeshi curry houses and treat yourself to a delicious meal, be warned though that almost all of the restaurants will have people outside trying to pull you in so try and visit a restaurant that has been recommended to you if you can.  There are also a number of Jewish bagel shops in the area, and the salt beef bagel with mustard comes highly recommended!
If you are visiting London and fancy doing something a little less off the beaten tourist track, visit Brick Lane and make it an experience you will remember forever!