Lego has been with us since it was first manufactured in 1949 in Denmark, and has been the bane of the bare feet of generations of parents ever since. These days, Lego is even more popular than ever, with a blockbuster movie and a raft of video games tying in to the humble plastic bricks.
Between November 27th and 30th, the ExCel Centre will be hosting a three day homage to all things Lego, and it is set to be a huge event. Originally planned for the O2 Arena in May, demand for the event was simply too high, so they rescheduled it for November at ExCel. If you have ever been to the O2, you can imagine how surprising it would be for it to be too small to hold all the people who wanted to come to your event, so you know it is going to be something pretty huge!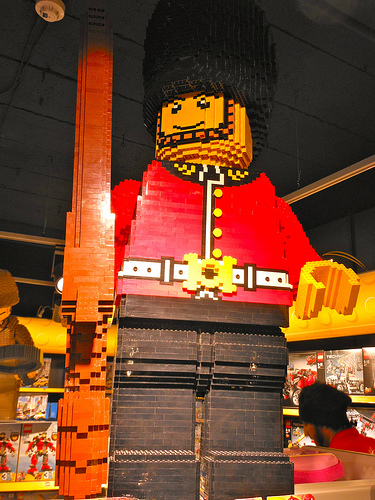 What Kind of Stuff Will Be There?
Obviously, it goes without saying that you will be able to buy some Lego at this event, with a 'brick marketplace' where you'll be able to buy both new and secondhand Lego sets and pieces. Here you will also see showcased some of Lego's more advanced toys, including robots you can build with bricks and modules that come in a Lego kit, which can be programmed on your PC and commanded on your smartphone. It is safe to say the toys have come a long way from those simple, primary coloured rectangles of our childhoods!
As well as being able to pick up some rare and interesting Lego, you will also be able to marvel at the impressive creations of professional Lego artists (yes, such things exist!), the scale of which can be quite astonishing. These Lego gurus will also be giving workshops where you can try your own hand at some fancy brick work.
Is It Just For Kids?
Lego is a toy, it is true, but with so much nostalgic value and so much current popularity, this is not being pitched as an event just for kids and families. Whatever your age, there promises to be a lot of cool and interesting stuff to see and play with, and so it is going to be a good thing to check out regardless whether you are visiting with Lego addicted children!
How To Get There
The ExCel Centre is one of the biggest show and conferencing facilities in the world, so unsurprisingly, getting there is very easy. The best way to get to its location at Royal Victoria Dock is to take the Docklands Light Railway (which can be reached in many ways, one of the most simple being by tube to Bank), and get off at Custom House. From there you will find the ExCel Centre easy to reach, and you won't be able to miss it!
The Brick 2014 Lego event promises to be an entertaining and lively convention, so why not check it out!