Home to some of the most fashionable haircuts in London, Shoreditch is the place to go if you want to hang with the cool kids.  This is where the scenesters congregate, so if you're into wacky art, alternative music and late-night bar hopping, Shoreditch should be top of your list.  Read on for your guide on where to go.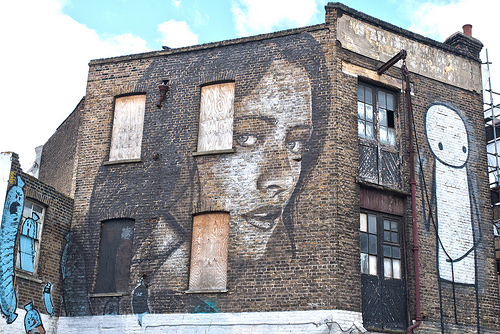 Zigfrid von Underbelly
Known affectionately by many as 'Ziggy's', this cosy little nook is home to very quirky décor and delicious cocktails. Order yourself a Bellini and curl up on one of the massive armchairs to catch up with a friend, or head out to the decked seating area outside to watch the goings on in fashionable Hoxton Square.  With an impressive list of DJs doing their thing on a regular basis, Ziggy's is a great spot for late-night drinking and dancing, or an off-beat place to have your lunch if that's the sort of thing you're after.
Banksy
Banksy is something of a British institution: primarily an incognito graffiti artist, he's also a political activist, painter and film director.  His art is dotted all over London (and the world) but you can find many of his originals in Shoreditch. The Banksy Chopper can be found above Franco's Fish and Chips in Old Street, earning the eatery lots of visitors!  A helicopter with a pink ribbon tied to it appears to swoop over the entrance.
This and many more of Banksy's contributions can be found spray-painted across the great city of London.  Shoreditch is a particular hub for discovering more about this enigmatic character, so make sure you do your homework while you're there.
Shoreditch House
This little tip may well be moot seeing as Shoreditch House is a members' only club, but if you were born with the gift of the gab, know the right people or can barter your way in, you will end up having a rather fantastic time.  Occupying the top three floors and roof of an old converted warehouse, the club is topped by an open air pool where a lot of late-night revelling takes place: this is where you will find the… ahem… 'celebrities'.
The food is great, the cocktails are gorgeous and the crowd is beautiful.  If you get the chance, head here for a night you'll never forget.
Hawksmoor
Earning rave reviews across the web, Hawksmoor Spitalfields is a fantastic steakhouse that'll fill you up and have you coming back for more the next night.  The meat comes from lauded London-based butcher the Ginger Pig.  Specialising in fantastic Longhorn steaks, the restaurant also regularly features 'guest' breeds on the menu.
The staff are well-trained in helping punters pick out the best meal for them – and they're friendly to boot which puts Hawksmoor above other establishments in the area who seem to deem friendliness 'uncool'.  The décor won't have you reaching for your camera, after all the restaurant is housed in a fairly drab building, but the food is simply fantastic.